编译|冯维维
Science, 3 SEP 2021, VOL 373, ISSUE 6559
《科学》2021年9月3日,第373卷,6559期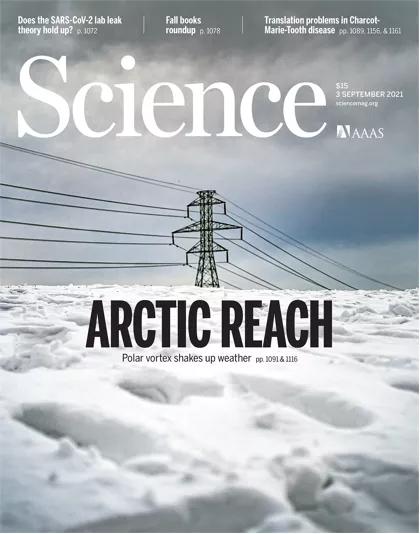 物理学Physics
Discovery of mesoscopic nematicity wave in iron-based superconductors
铁基超导体中介观向列波的发现
▲ 作者:T. SHIMOJIMA, Y. MOTOYUIT. TANIUCHIC. BAREILLE, ONARIH. KONTANI, NAKAJIMA, KASAHARA, SHIBAUCHI, S. SHIN, etc.
▲ 链接:
https://www.science.org/doi/10.1126/science.abd6701
▲ 摘要
固体中的电子会破坏旋转对称,导致电子向列性。这种现象在铜基和铁基高温超导体中都有观察到,其与超导性的关系仍然是一个争论的话题。
作者使用线性二色测量对两个铁基超导体的向列性进行成像。出乎意料的是,他们发现了波长非常长的周期模式。
这些发现可用假设有一列向列域壁的现象学模型来描述。
▲ Abstract
Electrons in solids can break rotational symmetry, resulting in electronic nematicity. This phenomenon has been observed in both cuprate-based and iron-based high-temperature superconductors, and its relationship to superconductivity remains a subject of debate. Shimojima et al. used linear dichroism measurements to image nematicity in two iron-based superconductors. Unexpectedly, the researchers found periodic patterns with very long wavelengths. The findings could be described with a phenomenological model assuming a train of nematic domain walls.
A transient radio source consistent with a merger-triggered core collapse supernova
瞬态射电源与天体合并均可引发核塌缩超新星
▲ 作者:D. Z. DONG, G. HALLINAN, E. NAKAR, A. Y. Q. HO, A. K. HUGHES, HOTOKEZAKA, T. MYERSK. DE, S. R. KULKARNI
▲ 链接:
https://www.science.org/doi/10.1126/science.abg6037
▲ 摘要
当一颗大质量恒星耗尽其燃料并发生爆炸时,就会发生核心坍塌超新星。理论学家预测,如果一颗进化中的大质量恒星与一颗紧凑的伴星(中子星)合并,可能会发生类似的爆炸。
作者发现了一个在早期无线电调查中不存在的射电源VT J121001+495647。后续的射电和光谱学研究表明,这是一颗不断膨胀的超新星残骸,撞击着周围的物质,很可能是在爆炸前几个世纪从恒星中喷射出来的。
2014年,在同一地点发生了一次不明X射线瞬变,表明当时发生了一次爆炸,产生了相对论射流。作者认为最有可能的解释是合并引发的超新星。
▲ Abstract
Core collapse supernovae occur when a massive star exhausts its fuel and explodes. Theorists have predicted that a similar explosion could occur if an evolved massive star merges with a compact companion, such as a neutron star. Dong et al. have identified a radio source that was not present in earlier radio surveys. Follow-up radio and optical spectroscopy show that it is an expanding supernova remnant slamming into surrounding material, probably ejected from the star centuries before it exploded. An unidentified x-ray transient occurred at a consistent location in 2014, suggesting an explosion at that time that produced a jet. The authors suggest that the most likely explanation is a merger-triggered supernova.
Generalized hydrodynamics in strongly interacting 1D Bose gases
一维玻色气体中的广义流体动力学
▲ 作者:NEEL MALVANIA, YICHENG ZHANG, YUAN LEJEROME DUBAIL, MARCOS RIGO, AND DAVID S. WEISS
▲ 链接:
https://www.science.org/doi/10.1126/science.abf0147
▲ 摘要
降低相互作用粒子的量子系统的维数可以简化其物理特征。这种还原在超冷原子气体中是可能的,其中一维气体的晶格可以使用光学势生成。
作者研究了轴向俘获势突然增加后一维铷-87原子气体的动力学。通常,其动力学很难从理论上描述,但研究人员发现,一种称为广义流体动力学的理论捕捉了一维系统在长时间演化中的行为。
▲ Abstract
Reducing the dimensionality of a quantum system of interacting particles can simplify its physics. Such reduction is possible in ultracold atomic gases, where a lattice of one-dimensional (1D) gases can be generated using optical potentials. Malvania et al. studied the dynamics of 1D rubidium-87 atomic gases after a sudden increase in the axial trapping potential. Normally, these dynamics would be difficult to describe theoretically, but the researchers found that a theory called generalized hydrodynamics captured the behavior of their 1D system over a long time evolution.
Plasmonic topological metasurface by encircling an exceptional point
围绕一个特殊点的电浆子拓扑超表面
▲ 作者:QINGHUA SONG, MUTASEM ODEH, JESÚS ZÚÑIGA-PÉREZ , BOUBACAR KANTÉ, AND PATRICE GENEVET
▲ 链接:
https://www.science.org/doi/10.1126/science.abj3179
▲ 摘要
超表面提供了一个平台,以紧凑的形式制造光学器件,比相应的体积光学元件薄得多。
作者认识到超表面也是与环境交互的开放系统,设计了一种利用这些非厄米特特性的超表面,可以围绕一个特殊的点。
随后从这样一个特殊的点散射被证明是偏振相关的,从而为波阵面工程设计提供了额外的控制旋钮。
▲ Abstract
Metasurfaces provide a platform to fabricate optical devices in a compact form much thinner than their corresponding bulk optical components. Recognizing that metasurfaces are also open systems interacting with their environment, Song et al. designed a metasurface that exploits those non-Hermitian properties such that they can encircle an exceptional point. Subsequent scattering from such an exceptional point was shown to be polarization dependent, thus providing an additional control knob in designing metasurfaces for wave front engineering.
Vortex beams of atoms and molecules
原子和分子的涡旋光束
▲ 作者:ALON LUSKI, XYAIR SEGEV, REA DAVID, ORA BITTON, HILA NADLER, EDVARDAS NAREVICIUS, etc.
▲ 链接:
https://www.science.org/doi/10.1126/science.abj2451
▲ 摘要
携带轨道角动量的光子和电子涡旋光束的发现(扭曲波前的结果)已经导致了光学成像、光学和电子显微镜、通信、量子光学和微操作方面的显著进展,并预示着更多的进展。
为了将这一进展扩展到其他类型的光束,作者演示了由氦原子和二聚体组成的涡旋光束的产生,这些涡旋光束是由具有大相干长度的超音速光束由带有叉位错的纳米光栅衍射而形成的。
由具有内部自由度的非基本粒子组成的涡旋光束是量子力学在宏观尺度上的直接表现,为人们期待已久的应用铺平了道路。
▲ Abstract
The discovery of photon and electron vortex beams carrying orbital angular momentum (as a result of a twisting wave front) has led to appreciable advances in optical imaging, optical and electron microscopy, communications, quantum optics and micromanipulation, and more advances are expected. In an effort to extend this progress to other types of beams, Luski et al. demonstrate the production of vortex beams of helium atoms and dimers formed from supersonic beams with large coherence lengths diffracted off of specifically nanofabricated gratings with fork dislocations. Vortex beams made of nonelementary particles with internal degrees of freedom represent a direct manifestation of quantum mechanics on macroscopic scale, and their production paves the way for many long-awaited applications.
化学Chemistry
Three-megadalton complex of methanogenic electron-bifurcating and CO2-fixing enzymes
产生甲烷的电子分叉和二氧化碳固定酶的聚合物
▲ 作者:TOMOHIRO WATANAB, OLIVIA PFEIL-GARDINER , JÖRG KAHNTJÜRGEN KOCHSEIGO SHIMA , AND BONNIE J. MURPHY
▲ 链接:
https://www.science.org/doi/10.1126/science.abg5550
▲ 摘要
由二氧化碳生成甲烷的第一个反应,是将二氧化碳转化为一个还原的单碳甲酰单元,作为下游步骤的底物。这个反应是由酶的复合物催化的,包括氧化氢或甲酸的成分和沿着不同的能量路径分裂两个电子。
作者仔细地纯化并制备了酶复合物的厌氧低温电子显微镜样品,产生了3~3.5埃(10-10米)分辨率的3兆达顿六聚体结构。铁硫辅助因子的排列提供了一个解释,电子分叉是如何耦合到大的蛋白质运动的,这预期存在于多个构象状态。
▲ Abstract
An important first step in methanogenesis is the conversion of carbon dioxide to a reduced one-carbon formyl unit that is a substrate for downstream steps. This reaction is catalyzed by a complex of enzymes, including components for oxidizing hydrogen or formate and splitting two electrons along different energetic paths. Watanabe et al. carefully purified and prepared anaerobic cryo–electron microscopy samples of the enzyme complex responsible, resulting in a three-megadalton hexameric structure at 3- to 3.5-ångström resolution. The arrangement of iron–sulfur cofactors provides an explanation for how electron bifurcation is coupled to large protein motions, which are expected from the multiple conformational states present.
气候学Climatology
Linking Arctic variability and change with extreme winter weather in the United States
北极变暖与极端冬季天气的联系
▲ 作者:JUDAH COHEN, LAURIE AGEL, MATHEW BARLOW, I. GARFINKEL, XAND IAN WHITE
▲ 链接:
https://www.science.org/doi/10.1126/science.abi9167
▲ 摘要
尽管快速变暖是全球气候变化的主要特征,尤其是在北极,那里的气温上升幅度远远超过世界其他地方(北极变暖的速度是全球平均水平的两倍)。
在过去的40年里,美国和北半球的其他地区经历了明显且越来越频繁的极端寒冷的冬季天气。
作者结合观察和模型,证明北极变化很可能是一系列过程的重要原因,这些过程涉及平流层极地涡旋(SPV)破坏,最终导致北部中纬度地区出现极冷时期。
▲ Abstract
The Arctic is warming at a rate twice the global average and severe winter weather is reported to be increasing across many heavily populated mid-latitude regions, but there is no agreement on whether a physical link exists between the two phenomena. We use observational analysis to show that a lesser-known stratospheric polar vortex (SPV) disruption that involves wave reflection and stretching of the SPV is linked with extreme cold across parts of Asia and North America, including the recent February 2021 Texas cold wave, and has been increasing over the satellite era. We then use numerical modeling experiments forced with trends in autumn snow cover and Arctic sea ice to establish a physical link between Arctic change and SPV stretching and related surface impacts.
生命科学Life Science
Florigen sequestration in cellular membranes modulates temperature-responsive flowering
成花素隔离调节温度响应开花
▲ 作者:HENDRY SUSILA, SNJEŽANA JURIĆ, LU LIU, KATARZYNA GAWARECKA, KYUNG SOOK CHUNGSUHYUN JIN, SOO-JIN KIM, ZEESHAN NASIM, GEUMMIN YOUN, JI HOON AHN, etc.
▲ 链接:
https://www.science.org/doi/10.1126/science.abh4054
▲ 摘要
在小芥菜类植物拟南芥中,成花源开花位点T(FT)在茎尖分生组织中启动开花。
作者发现,在叶片细胞中产生的FT可以在环境温度不利的情况下保留下来。在低温下,FT与膜磷脂结合,从而限制了其流动性。在较高的温度下,这种结合不太有利,FT被释放到茎尖分生组织中以驱动开花。
因此,温度敏感的脂质结合有助于植物在有利的环境温度下开花。
▲ Abstract
In the small mustard plant Arabidopsis, the florigen FLOWERING LOCUS T (FT) mobilizes to initiate flowering at the shoot apical meristem. Susila et al. now show that FT, which is produced in leaf cells, can be held in reserve if ambient temperatures are not favorable. At low temperatures, FT binds a membrane phosopholipid and is thus restricted in mobility. At higher temperatures, such binding is less favored, and FT is released to mobilize into the shoot apical meristem to drive flowering. Thus, temperature-sensitive lipid binding helps the plant time flowering with favorable ambient temperatures.